Can you mix stainless steel and white appliances? If you're ready to redo your home's kitchen, you might wonder how this choice will look! You might have some appliances you don't want to replace, or you could be looking for a fresh appearance in the kitchen. However, something fresh and unique isn't always the best choice in the long run.
While you might prefer appliances in one finish, you can sometimes mix up their appearance. For instance, an oversized stainless-steel stove can become the focal point of a kitchen. In this case, it can mix well with white appliances, especially if the colors of your kitchen are light and bright.
Before you make your decision, consider some added information about mixing stainless steel and white appliances. It's also good to look at as many photos of your potential choice as possible. This will ensure you understand your potential results and make the right choice for your home.
Also, never hesitate to contact a kitchen designer before deciding on your appliances and other choices. They will usually know what's hot and trendy in your area. They might also know what other clients wound up not happy with after a renovation! Their expertise can help you make the right decision for your home.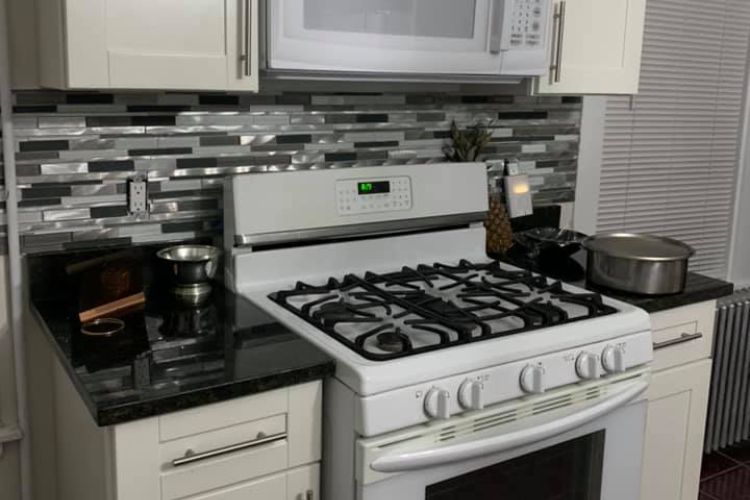 Can You Mix Stainless Steel and White Appliances?
The answer to the question, can you mix stainless steel and white appliances, is that you can do whatever you want in your kitchen! If you don't plan on selling your home, you can add whatever personal touches work for you.
This includes choosing mixed metal or mismatched color appliances. Again, this might work well if you have an appliance that you want to "take center stage." A stainless steel, chef-inspired stove can stand out against white appliances, making it look more commanding.
Also, remember that many white appliances have stainless steel details including handles and knobs. Choosing these can make your appliances look even more coordinated and cohesive. They might also work well together if your mismatched appliances are not next to each other in your kitchen.
Is It OK to Have Mismatched Color Appliances?
While you might mix stainless steel and what appliances for your home, this choice might not work in every scenario. For instance, stainless steel items might make some older white appliances look even more outdated. White appliances with plastic details might also seem out of place next to stainless steel options.
Also, consider if you might move sometime in the future. In that case, you want to stick to neutral choices that appeal to a wide range of buyers. Since not all homeowners enjoy mixed finished or mismatched colors, reconsider these options.
Additionally, homeowners should also consider other colors and materials when choosing appliances. For instance, if you have a bold color for your backsplash or floor tile, keep the appliances white or neutral. Adding black appliances next to dark paint, tile, or other materials can make the kitchen seem very unwelcoming.
Are White Appliances Coming Back in 2024?
Designers are noting that stainless steel is still #1 when it comes to home appliances. However, homeowners are also moving away from the subtle, cool white shades that have been popular in recent years. Instead, they seem to be favoring matte black appliances with blue or green cabinetry.
However, white appliances are timeless and work well with just about any cabinet, countertop, and floor color. If you're not sure the best color for your kitchen, you can also choose white appliances and cabinetry and then add splashes of color with paint and backsplashes. These can be changed more readily and affordably over the years!
Additionally, note that white often appears clean and bright, making even a dim and dull kitchen look its best. When coupled with glass backsplashes, those white appliances can bounce around a lot of light. In turn, your kitchen can seem welcoming no matter its size or amount of light it receives.
What Matches White Appliances?
White appliances can match well with a variety of kitchen and home decor styles, as they have a clean and neutral appearance. Here are some suggestions for matching white appliances with other elements in your kitchen or home:
Create a sleek and modern look by sticking with a monochromatic color scheme. Pair white appliances with white cabinetry, countertops, and backsplashes. This creates a clean and minimalist aesthetic.
White appliances can also stand out beautifully against dark-colored cabinets or countertops. Dark wood cabinets or black granite countertops can provide a striking contrast that highlights the appliances.
If you want to add a touch of sophistication, consider using stainless steel accents alongside white appliances. For example, stainless steel handles, faucets, and light fixtures can complement white appliances while adding a contemporary feel.
A colorful or patterned backsplash can add vibrancy to your kitchen. The white appliances act as a neutral backdrop, allowing the backsplash to be a focal point of your kitchen's design.
White appliances can work well with natural wood tones. Wooden cabinets, floors, or kitchen island surfaces can create a warm and inviting contrast with the clean white appliances.
If you have open shelving in your kitchen, consider displaying colorful dishes, glassware, or cookware. The white appliances can serve as a backdrop for these pops of color.
White appliances can fit into an industrial-style kitchen with exposed brick walls, concrete countertops, and metal accents. The contrast between the industrial elements and the white appliances can create a unique and trendy look.

What Finish Goes With Stainless Steel Appliances?
Stainless steel appliances are a popular choice in kitchens due to their sleek and modern appearance. When selecting finishes to complement stainless steel appliances, you generally have a few options:
One of the most straightforward choices is to match stainless steel appliances with other stainless steel elements in your kitchen. This creates a cohesive and harmonious look. Consider stainless steel cabinet hardware, faucets, and light fixtures to tie everything together.
Brushed nickel finishes can complement stainless steel appliances nicely. They have a similar brushed texture and a silvery tone that pairs well with stainless steel. Brushed nickel cabinet hardware, drawer pulls, and faucets are popular choices.
Chrome finishes have a shiny and reflective quality that can work well with stainless steel. Chrome can add a touch of elegance and a bit of contrast to your kitchen. Chrome pendant lights or cabinet hardware can be good choices.
For a bold and striking contrast, you can pair stainless steel appliances with black finishes. Black cabinet hardware, faucets, or even black countertops or backsplashes can create a high-contrast, modern look.
White can provide a clean and classic contrast to stainless steel appliances. White cabinets, white subway tile backsplashes, or white quartz countertops can all work well with stainless steel. This combination creates a timeless and fresh aesthetic.
Natural wood finishes, such as light oak or walnut, can soften the look of stainless steel. Wooden cabinets, open shelves, or a wooden kitchen island can add warmth and a touch of natural beauty to your kitchen.
Glass elements, such as glass tile backsplashes or glass-front cabinets, can be used alongside stainless steel to create a modern and airy feel in the kitchen.
Stainless steel serves as a neutral backdrop, so you can easily incorporate colorful accents through items like kitchen accessories, dishes, or decorative items. Bold colors or patterns can add personality and vibrancy to the space.
A Quick Word From Our Crew
Greater Boston Kitchen Remodeling is happy to answer the question, can you mix stainless steel and white appliances. If you're ready for a new space, call our Boston kitchen renovation contractors. We'll explain all your options and create a design plan you're sure to love.