What are European style cabinets? Any homeowner planning a kitchen or bathroom renovation should consider this question carefully, as your chosen cabinet style affects the overall appearance of the space while new cabinets also take up quite a bit of your home improvement budget!
European style cabinets typically include a more minimalistic design than American or Mediterranean style cabinets, and are often with a frame, keeping their look simple and allowing for a seamless front.
Before you begin a bathroom or kitchen renovation, consider some differences in favorite cabinet styles and advice on what might be right for your space. You might also consider some simple tips on what to look for in kitchen cabinets, and when to choose custom cabinets versus store-bought.
Remember to discuss your choices with a kitchen renovation contractor near you, as they can often tell you which choices are right for your space in particular. He or she might also have some suggestions for fitting your choices into your budget, no matter how limited! You'll then ensure a kitchen or bathroom space you'll love for many years to come.
What Are European Style Cabinets?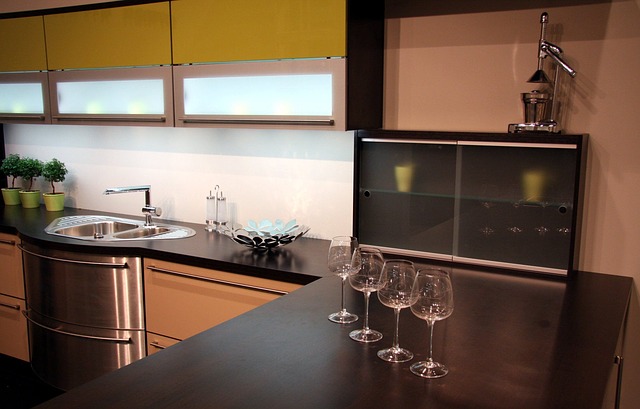 To understand what are European style cabinets, first consider what is meant by a cabinet frame. A frame attaches to the front of the cabinets, and doors are attached to that frame. Doors on framed cabinets are typically smaller, to show that frame behind them.
European style cabinets are frameless; the door attaches right to the cabinet body. Those doors are also larger so that they cover the entire cabinet and meet each other in the middle. Lack of a frame and those oversized doors create a clean, simple look for European style cabinets, and provide a seamless transition from one cabinet to another.
Note, too, that European style cabinets are often styled with minimalistic knobs and handles, to keep that look simple. The front of the door might have inserts or molding, but when the cabinet itself is without a frame behind the door and drawers, those are European style cabinets!
Which are Better, Frameless, or Framed Cabinets?
There is no "one size fits all" answer as to frameless versus framed cabinets. Instead, it's good to simply consider a few added details about these two options and then choose what works best for your home and your style. For instance, if you prefer a simple, clean look in the kitchen, opt for frameless cabinets with doors that meet each other, as these typically look less cluttered and busy.
Frameless cabinets also allow you to remove a door to a cabinet or cabinets, for a more open look. If you have beautiful dishes you want to show off or find that your kitchen seems a bit cramped and crowded, you might remove a door or two from your frameless cabinets and keep the space open and airy.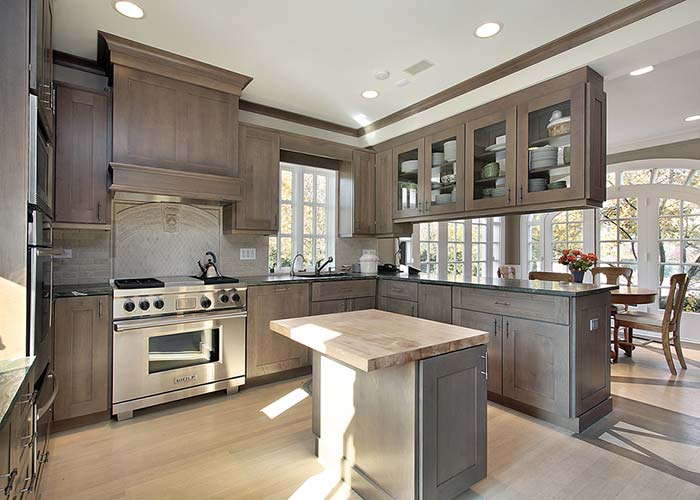 A homeowner should also note that frameless cabinets are typically more expensive, so they might not fit your budget and especially for a larger kitchen. You might also note more choices for framed cabinets, so you're sure to find something that fits your home's overall style when you shop framed cabinets.
One last consideration; a quick and affordable way to update your kitchen is to simply repaint your cabinets! It can be easier to update frameless cabinets rather than having to sand, prep, prime, and repaint a cabinet frame as well as door and drawer fronts. If you love changing the look of your kitchen but don't want to invest in new cabinets every few years, invest in frameless cabinets.
What IS a European Style Kitchen?
Along with European style cabinets, a European style kitchen is also simple, with little adornment. A traditional American style kitchen will often have lots of decorative elements such as plates on the wall, a cookbook set out just for decoration, and fake fruit in a bowl! A European style kitchen is more functional and streamlined, often with little decoration.
Note, too, that European style kitchens are often far smaller than American kitchens. American homeowners might buy in bulk and tend to stock up on food items they need for a month, and store these in cabinets and pantries. Europeans often buy food items for immediate consumption and rarely buy in bulk; even their refrigerators are often scaled down, and might resemble something you would expect in an American apartment. European meals are also typically smaller than American dinners, so a European style kitchen might not offer as much prep space.
If you love European style cabinets but aren't keen on a small, simple European kitchen, remember that you can combine those cabinets with more traditional touches rather seamlessly. Opt for streamlined cabinets but don't sacrifice your kitchen's center island, or add the decorative touches you prefer in your kitchen no matter the cabinet style.
What Are the Different Styles of Kitchen Cabinets?
If you're still not sure that European style kitchen cabinets are right for your home, you might check out the various differences between popular cabinet designs and styles. Check samples online or at your home improvement store of these various styles, and you're sure to find the right one for your home.
Traditional cabinets have more design along the doors, often with raised panels or beadboard. Earth tones are popular for traditional cabinets, and they're often decorated with oversized hardware in oil-rubbed bronze or pewter, to complement their color tone.
Shaker style cabinets are an excellent choice if European style cabinets are a bit simple and minimalistic for you, but traditional cabinets are too busy. Shaker cabinets have a rail frame around the front of flat panel doors and typically include natural finishes in shades of white or muted gray.
Rustic cabinets feature raw wood, often showing knots and other so-called imperfections. Rustic cabinets are also typically unpainted and made with thick slabs and posts.
Country cabinets are similar to rustic cabinets but "toned down" a bit, with smaller posts and door thicknesses. Country cabinets might also be painted or distressed, and doors might be swapped out for glass or wire.
Contemporary cabinets are similar to European style cabinets but are often made with plastic or laminate coatings. They also feature minimal detailing and hardware.
Craftsman style cabinets are made with thick oak, hickory, maple, or cherry, with minimal lines and antique-style pulls and handles.
Kitchen cabinets might also feature modern touches such as glass front doors or open shelving. Combining these touches with your favorite cabinet style can tone down that look, keeping your kitchen from seeming crowded and busy.
What Makes Good Kitchen Cabinets?
Not all kitchen cabinets are alike, and buying the cheapest models on the market can mean seeing rails separating from the doors, doors that don't hang level and even, stuck drawers, and other such long-term issues. Cheaper materials are also often harder to clean and might show fingerprints and grease more easily than high-quality cabinet surfaces.
To choose quality kitchen cabinets, first start with all-plywood construction versus particleboard. Particleboard is pressed together with wood glue and is more likely to fall apart and sag than plywood. You also want to choose cabinets with full plywood backs rather than metal rails or thin backing, which can allow cabinets to sag and even eventually fall!
Next, check out hinges and glides. Thick steel hinges will keep doors level and even and prevent sagging, while heavy-duty glides keep drawers working even when under the weight of many items inside. If you have the budget, invest in soft-close hinges and glides, for a quieter operation and no banging and slamming doors and drawers shut.
Check the drawer construction of lower cabinets. They should have dovetail connections and not just staples or glue. It's also vital you choose fully factory-assembled cabinets rather than ready-to-assemble, as factory assembled usually means less risk of uneven doors and drawers.
5 Reasons Custom Kitchen Cabinets Are Worth the Cost
Custom kitchen cabinets are almost always more expensive than those purchased from a big box or home improvement store, but are often worth that added cost! Check out 5 reasons why custom kitchen cabinets are worth the cost and when they're probably the best choice for your home.
Custom kitchen cabinets are often built with higher-quality materials and with a precision you won't find with store-bought cabinets. Handmade cabinets might then last far longer than store-bought, so that you won't need to replace those cabinets as often as cheaper premade cabinets.
Custom kitchen cabinets allow you to add personalized details. If you prefer a certain wood species or stain color, or various details and features you cannot find in the store, a custom cabinetmaker ensures that your new cabinets fit your preferences and style perfectly.
Store-bought cabinets are typically available in a short range of sizes; if your kitchen is oddly sized or you want a cabinet in a particular corner, custom cabinets can accommodate. You might also choose a custom cabinet to slide between the refrigerator and lower cabinets or other such odd nooks and crannies in the space.
As custom cabinets provide a seamless look in your kitchen and offer more durability, they also offer more long-term value. If you should ever put your home on the real estate market, those custom cabinets might boost your home's resale value far more than store-bought cabinets.
Handmade custom cabinets work around you! Homeowners today might want a pet station to hold all their pet's food items and accessories, large lower drawers to hold bulk foods, cabinets built to accommodate small appliances, and so on. Whatever your storage needs, custom cabinets are built to accommodate.
Our Kitchen Remodeling Company
This information is proudly provided by Greater Boston Kitchen Remodeling, the most trusted name in kitchen and bathroom renovation in Boston and surrounding areas. If you're still wondering, "What are European style cabinets?" or would like to chat about custom cabinets for your home, give us a call! The pros at Greater Boston Kitchen Remodeling offer a full range of high-quality cabinets and provide full-scale kitchen and bathroom renovations you're sure to love. Whether your home needs more storage or kitchen design in Boston, or a little bit of both, call the experts at Greater Boston Kitchen Remodeling today.