A kitchen remodel is one of the most popular renovation projects undertaken by homeowners today. It's little wonder why a new kitchen design is so important for many families, since the kitchen is probably the one room in the house that everyone uses every day! While a kitchen remodel is very common, it can also be more detailed and stressful than homeowners realize, which is why it's good to have a plan for your renovation before you begin.
A kitchen remodel should start with your budget, some research on the prices and options for materials in your area, and a list of "must haves" versus "wants."
As this is a very simplistic explanation of how to plan a new kitchen design and prepare for a remodel in your home, you might note some vital details about planning any home renovation project. Be sure to discuss all these details with your builder or a kitchen renovation contractor near you before you make your final decision about an upcoming kitchen remodeling project.
Setting a Budget Before You Remodel a Kitchen
Every homeowner should set an absolute budget before they remodel a kitchen, and this budget should include room for some unexpected expenses! It's not unusual for a kitchen renovation contractor to start pulling up flooring or tearing out walls only to find old electrical wiring, damaged subflooring, rotted insulation, and the like.
These repairs and replacements are needed before you can proceed with your planned kitchen remodel. You might also add a few everyday expenses into your kitchen remodel budget, such as the added expense of eating out more often during your kitchen renovation and even the expense of added artwork and accessories to make your new kitchen look complete!
When considering your budget for a kitchen remodel, remember to also consider the added value of a new kitchen. You typically won't recoup every dollar you spend on a kitchen renovation in increased property values, but stretching your budget by a few thousand dollars might mean some added equity in your home that makes the investment worth the cost!
Research a Remodeling Kitchen Cost
Before you decide that your new kitchen design will include all the updated and high-end features and materials you see in catalogs and home decor magazines, it's good to do some research on a remodeling kitchen cost! Consider some important details when it comes to researching the expected kitchen renovation cost for materials for your home:
Start with measurements! Measure exposed flooring areas, the size of your kitchen countertops, and the number of cabinets in the kitchen currently. These measurements will tell you how much flooring tile and countertop materials you'll need as well as the number of replacement or custom cabinets for a kitchen renovation.
Always include room in the budget for a bit of extra flooring; it's not unusual for a few tiles to be ruined during the installation process, and you'll also want to keep some tiles on hand so you can replace damaged flooring through the years!
Some countertop materials are ordered in a size larger than the size of your current counters so that they can be sanded, trimmed, buffed, or otherwise cut to fit. Don't assume that a 12x25 countertop requires a 12x25 slab of granite, as an example, as your kitchen renovation contractor might start with a larger piece and then trim it for a precise fit.
Be sure you're including all "hidden" costs when researching the price of new materials for a kitchen renovation. For example, you might be charged an additional amount for the hardware for custom kitchen cabinets, or certain high-end materials not manufactured locally might have an added delivery charge not included in their catalog price.
Remember to include sales tax when shopping materials for your kitchen renovation! An 8%, 7%, or even 5% sales tax can add up quickly when you purchase thousands of dollars worth of materials for your new kitchen design.

Be very cautious about thinking you can save money by opting for low-end, low-quality materials. You might lower your kitchen renovation cost but then find that you need to repair or replace those materials far more often over time, so that those low-quality materials actually cost more over the lifetime of your home!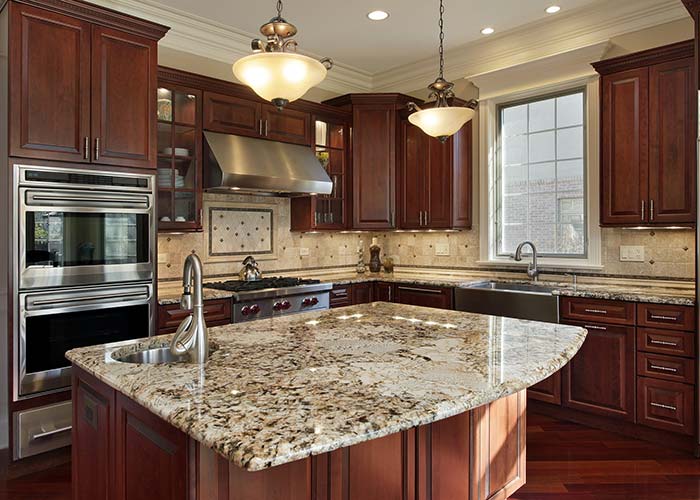 Must Haves vs. Wants When Planning a Kitchen Renovation
When planning a kitchen renovation, there's no reason to think that you can't include some luxury features and specialty items that will make food prep easier overall, and that will create a stunning new kitchen design! However, unless you have an unlimited budget, you might need to carefully consider your "must haves" versus "wants" for your kitchen renovation. Consider some tips to help you through this process:
If you entertain a lot and enjoy having friends and family in the kitchen with you as you cook, you might be careful about an oversized center island that takes up a large part of the kitchen's footprint. That island might be in the way of visitors in the kitchen and create too much separation between everyone.
For families with children and pets, durable surfaces are a "must have." Avoid flooring tiles that are easy to scuff and that show every bit of dirt, as well as cabinets that show greasy fingerprints! Opt for laminate flooring and real wood cabinets that are easy to clean.
For cooks and chefs with lots of small tools and gadgets, drawers with built-in dividers and separators might be a "must have." Dividers keep hand tools organized and close at hand, without having to take up valuable counter space with containers, hooks, and the like.
Should You Change the Layout in Your New Kitchen Design?
Changing the structure of your home or layout of your kitchen design adds to the cost of your kitchen renovation, but it can often be worth that investment! A poorly designed kitchen is often cumbersome and awkward to use and might make meal prep much more difficult for everyone in the family. However, how do you know if your kitchen design should include an entirely new layout or footprint?
Your kitchen's stove, sink, and refrigerator should be designed in a triangle, or placed in close proximity to each other. Having to carry fresh food from the refrigerator all the way across the kitchen to the sink is cumbersome and tiring, and also increases the risk of dropping something along the way!
Parents of younger children often want to stay alert to them while working in the kitchen. Removing a wall, even if it means relocating appliances, can open up the space and keep adjoining rooms within eyesight.
Removing a wall to the adjoining dining room or expanding the entryway can make a small kitchen seem more spacious, even if you don't actually expand the overall footprint or square footage of the kitchen itself.
Moving the sink from an interior wall to an exterior wall might allow you to add a window over the sink, creating a brighter, more cheerful spot for food prep and washing dishes!
A chef-inspired oven with coordinating overhead exhaust hood can be a focal point in the kitchen, so you might consider reworking the footprint of the space so that your beautiful new oven is the first thing visitors see!
If doors to the refrigerator, stove, or dishwasher open into oncoming foot traffic or tend to bump into nearby cabinets, you might rework the layout of your kitchen to move those appliances someplace less obtrusive.
If more than one person tends to work in the kitchen at once, change the layout to include more counter space, wider aisles, or other such room so that everyone is comfortable no matter how many people are in the kitchen!

For homes with aging parents, or if you are approaching a particular age yourself, it might be good to rework the kitchen layout so that walkways can accommodate a wheelchair or so that you can add comfortable seating for use while prepping food.
Can You Remodel a Kitchen on a Tight Budget?
Having a tight budget doesn't mean you can't have a beautiful new kitchen design! To ensure you stick to your limited budget, first pare down your "must haves" to a short list of items that are absolutely needed in your kitchen renovation plans. This list often includes new countertops, new flooring, updated cabinetry, and new appliances.
Once you have your list of "must haves," shop for cost-friendly alternatives to materials and surfaces. Your kitchen renovation contractor can often help, but many such wallet-friendly choices include granite remnants for countertops, laminate flooring rather than genuine hardwood or vinyl tile, and simple Shaker style kitchen cabinets. You can also shop for basic appliances at a discount home improvement store or even online!
While these basics might seem less than stunning, remember that you can create a beautiful kitchen design with some inexpensive accessories and finishing touches. For example, you might add oversized hardware to your Shaker style cabinets for added visual appeal, or splurge on an upscale lighting fixture to add lots of visual interest to the space without breaking your budget!
How to Contain Your Kitchen Remodel Cost
When considering the cost of remodeling a kitchen, be sure you're prepared to invest in quality materials and a reputable contractor, to ensure you're happy with the end result for years to come. However, you might note some ways of containing your kitchen remodel cost so you can save at least a few dollars on your new kitchen design:
If your kitchen renovation contractor must tear out the existing flooring, ask if you can do this job yourself and save on the cost of tile removal! Removing old tile is not typically difficult and managing this job on your own can often trim your kitchen renovation costs by a few hundred dollars.
If the doors of the current cabinets are too old and worn for refinishing, consider removing them and opting for exposed shelving. Some new trim or crown molding around the cabinets adds lots of style without the expense of new kitchen cabinets.
Since reworking the layout of a kitchen can add to your kitchen remodel cost significantly, consider cost-saving alternatives to a new footprint, such as cutting out a pass-through section of a wall rather than removing the entire wall. If an appliance door keeps bumping into a cabinet, replace that cabinet with something smaller rather than relocating the appliance.
If drawers and cabinets with built-in dividers are too costly, opt for open interiors and then shop container stores for the separators, hooks, rolling shelves, and other items you need to keep your kitchen organized.

Most homeowners can paint walls on their own! Foregoing this service as part of your kitchen renovation and painting the walls after the remodel is completed can often save you hundreds of dollars on your kitchen renovation cost.
Remember to ask your contractor for other suggestions on how to save on the cost of your kitchen remodel and work those cost-saving tips into your overall plan. You'll then wind up with a kitchen you love at a price you can afford!