Having an awkward or inefficient kitchen layout can be a real pain. From wasted space to poor workflow, it's no fun to cook and clean in a kitchen that just doesn't work right. 
So, how do you fix an awkward kitchen layout? In short, you can optimize workflow by creating clearly defined cooking, cleaning, and dining zones. Maximize every inch of space with multi-functional and space-saving furniture as well as architectural details to make the kitchen feel open and airy. Higher cabinets and adding lighting can also improve the flow of your kitchen design.
But before you go knocking down walls or embarking on a pricey remodel, try out some of these clever and budget-friendly ideas to fix up your awkward kitchen layout.
1. Add an Island
Islands are a great kitchen design choice for adding prep space, storage, and seating to a kitchen. If you have room for one, an island can help define the kitchen zones better and improve traffic flow. Bonus if you add wheels so you can move it around as needed. Just watch out for toes!
2. Use the Walls
Wall space is prime real estate in small kitchens. Make the most of vertical storage with taller cabinets that go all the way to the ceiling. Floor-to-ceiling shelving is also great for displaying cookbooks and small appliances. Just try not to store the heavy things up too high, or you'll be getting out the step stool every day. Oof, my back!
3. How to Fix an Awkward Kitchen Layout? Get Creative with Lighting!
Proper lighting can make a small, closed-off kitchen feel bright and open. Add windows, skylights, and plenty of task lighting. Under cabinet lighting illuminates the counters beautifully. And hey, if all else fails, just add more candles! Nothing makes a kitchen feel homier than candles everywhere. What could go wrong?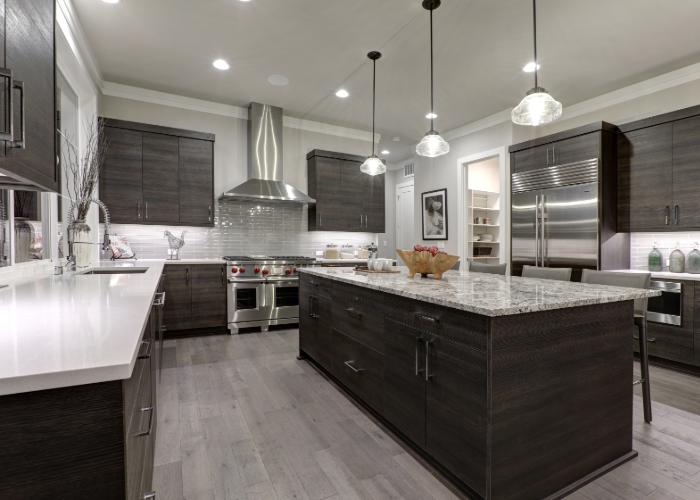 4. Break Up the Cabinets
Long stretches of cabinets can make a kitchen feel boxed in. But you don't necessarily have to rip them out! Just removing a section above the sink or adding an open shelf in the middle can visually break up the cabinet monotony. Bonus points if you paint or restain the remaining cabinets for a refreshed look.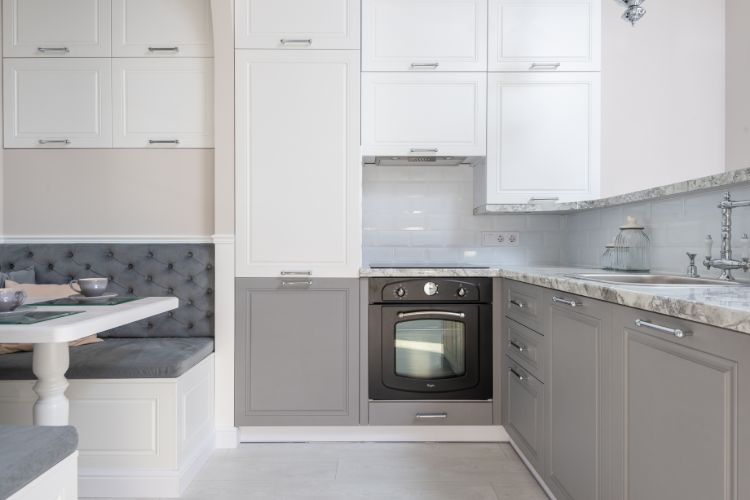 5. Add Architectural Interest
Exposed brick, textured tile backsplashes, wood accent walls—architectural elements add visual interest to boring kitchen walls. Floating shelves, open shelving, and glass cabinet doors also keep things interesting while displaying your pretty dishware. Just don't go crazy piling everything on the shelves, or it'll look cluttered. I speak from experience here...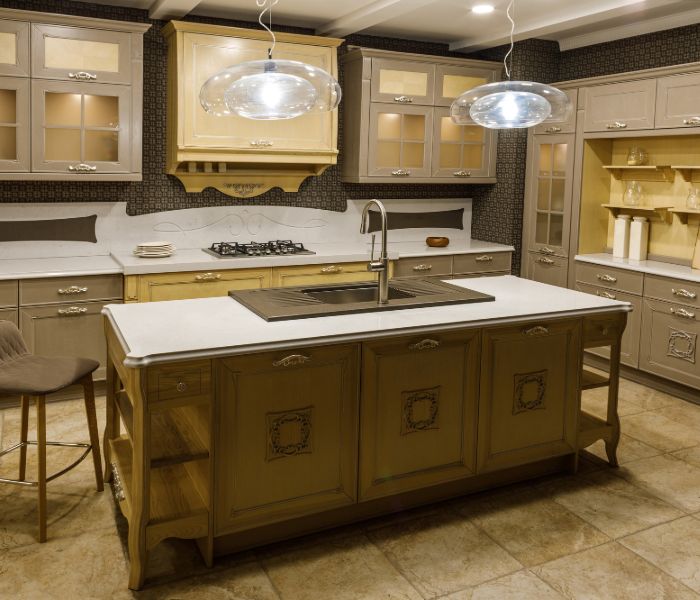 6. Adjust Cabinet Heights
Varying cabinet heights give a kitchen dimension and appealing asymmetry. Try lowering a section of uppers or using tall pantry cabinets. Add a custom range hood or media cabinet above the cooktop. Just make sure everything is still accessible and functional. Nobody wants to haul out a step stool every time they need a drinking glass!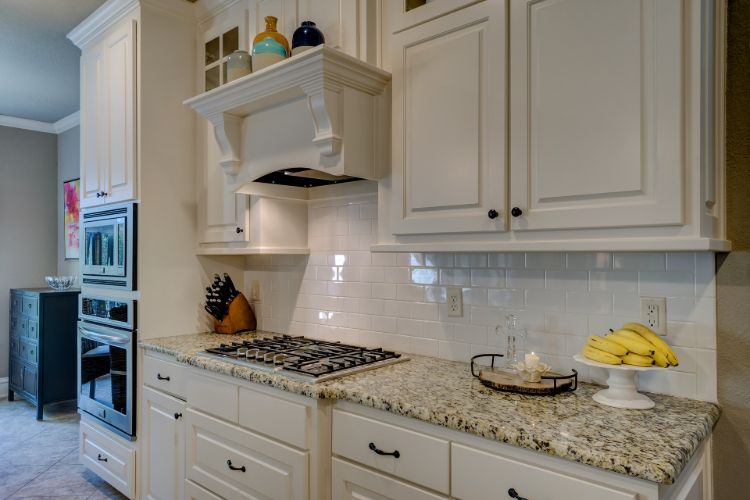 7. Change the Floor Plan
For small or cramped kitchens, changing the floor plan can make a huge difference. Can any walls be knocked down or doorways added to improve flow? You could borrow space from an adjoining room to expand the footprint, too. Moving cabinets, counters, and appliances around can also help delineate work zones better. Just make sure to consult a contractor, so it's all up to code!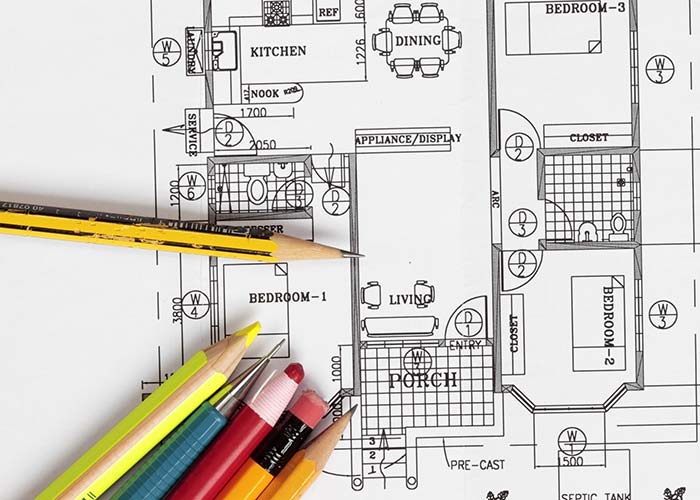 8. Opt for Open Shelving
Enclosed cabinets can close a kitchen in, while open shelving looks airier. Replace a few upper cabinets with shelves for displaying pretty dishes and décor. Just avoid open shelves near the stove and sink for grease splatter and water splash concerns. And, of course, keep the clutter in check, or it can look messy real quick. Nobody likes a messy, greasy shelf!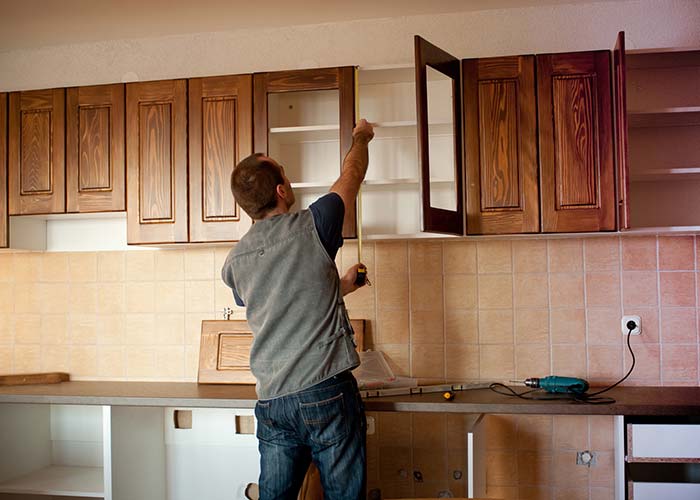 9. Create a Built-In Breakfast Nook
Make use of awkward corners or gaps by adding a built-in banquette or breakfast nook. Include storage underneath for bonus space to stash cooking essentials. Just try not to hide too much junk under there, or you'll never see it again. I lost a whole cheese platter under my breakfast nook once. What a waste of perfectly good brie!
10. Let in Natural Light
More natural light always makes a space feel open and airy. Add a window over the sink or skylight if possible. Swap out dark curtains for breezy sheers, too. Reflective surfaces like a light tile backsplash can also brighten up the whole room. Just watch where the glare hits—nobody likes getting blinded while trying to slice an onion!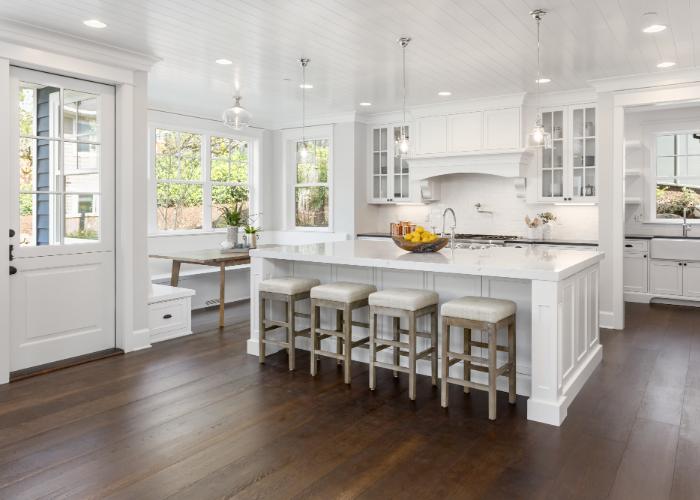 11. Zone It Out
Create designated zones for cooking, cleaning, and dining to optimize efficiency. Use flooring changes, rugs, lighting, and counters to define each area. This breaks up the space visually, too. Just try not to get too crazy with elaborate borders and color-coding. Unless you really want your kitchen to look like a football play diagram!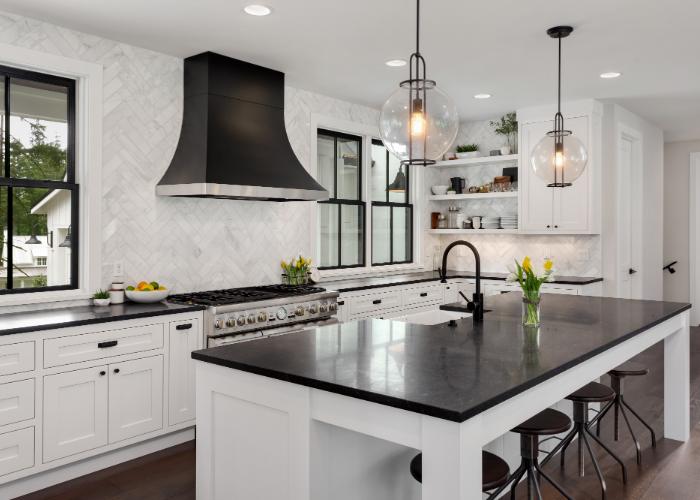 12. Get Multi-Functional Furniture
Maximize every inch with storage ottomans, baker's racks, rolling carts, and fold-out tables. For small kitchens, look for furniture that can moonlight in multiple zones. An island with seating and storage can add dining and prep space in one fell swoop. Just make sure there's enough walking room around it when the chairs are pulled out. Tight squeezes mean more hip bruises!
13. Add Architectural Molding
Crown molding, trim work, and beams bring lovely architectural detail to plain kitchens. For rented spaces, look for peel-and-stick products that provide the same visual effect without installation hassles. Or get creative with paint treatments like stencils or exposed "bricks" painted on a wall. Just make sure your landlord is okay with it first! Don't need that security deposit going to waste.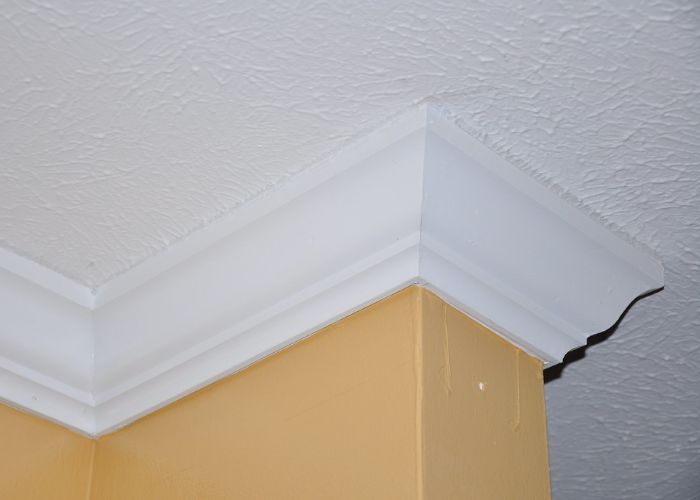 Conclusion
With a little creativity and elbow grease, you can transform the most awkward, inefficient kitchen layout into a gorgeous, functional space you're happy to cook in. No massive renovation required! Although if you do want to tackle a big kitchen remodel, I know a great contractor you could call…
Greater Boston Kitchen Remodeling
The team at Greater Boston Kitchen Remodeling has been transforming awkward, outdated kitchens into gorgeous and efficient spaces for over 15 years. Their expert designers and contractors work closely with each client to create a customized remodel within any budget. From simple cabinet rearrangements to complete gut renovations, they make the process smooth from start to finish. Contact them today at (617) 716-8717 for a consultation!
FAQs
How do you deal with a weird kitchen layout?
First, analyze the existing layout and workflow to identify any problem areas or bottlenecks. Then, look for creative solutions like an island, adjusted cabinet heights, multi-functional furniture, and zoning to optimize efficiency within the existing footprint.
What can I do with awkward kitchen cabinets?
To improve awkward kitchen cabinets, remove sections to break up monotonous stretches or vary cabinet heights for visual interest. Also, replace enclosed cabinets with open shelving, glass doors, or shallower shelves to open up closed-in spaces.
What is the golden rule for kitchen design?
The golden rule for kitchen design is to create an efficient and logical workflow between the sink, refrigerator, cabinets, and stove. This triangle of work zones allows for smooth meal prep and cleanup with minimal crossover between tasks.
What is the common problem if kitchen design is not planned properly?
Poor kitchen design often leads to an inefficient workflow with too much crossover between tasks. Having a cluttered layout makes cooking and cleaning more difficult and time-consuming. Awkward placement of the stove, sink, cabinets, and refrigerator disrupts the natural triangle pattern that allows for an optimal workflow. Without proper planning, you may end up with wasted space and traffic flow issues that make the kitchen feel closed off and cramped.