A new kitchen design is an excellent way of opening up an otherwise crowded space, creating room for new chef-inspired appliances and adequate storage. On the other hand, you might find that your home's current kitchen design is overly large, with unused areas and an awkward layout. Before you start reworking that space yourself, however, it's good to consider some of the most common mistakes homeowners make with DIY kitchen design.
Common mistakes made by homeowners trying to create a new kitchen design themselves include:
Not considering needed clearance for appliance, cupboard, pantry, and entryway doors.
Adding storage that is inaccessible and awkwardly placed, or doesn't suit their individual needs.
Overlooking needed food prep space.
Spacing appliances too far apart from each other.
Neglecting needed electrical outlets, overhead and under-cabinet lighting, ventilation, and other seemingly minor details.
While these might be some of the most common DIY kitchen design mistakes made by homeowners today, they certainly are not the only potential issues to consider! Reviewing some additional mistakes homeowners often make ensures you're not likely to make those same mistakes with your new kitchen renovation plans as well.
It's also helpful for homeowners to consider some added tips for ensuring a kitchen layout and design that works for them in particular, and which they'll be happy with for years to come. You can then discuss your options with a kitchen renovation contractor as needed, and know you'll end up with a kitchen space that is both functional and stylish as well!
Mistakes to Avoid With DIY Kitchen Design Plans
Note a few added details about common kitchen design mistakes and be sure you apply these to any potential design for your home. You can also bring them up when meeting with a kitchen renovation contractor or designer, and know that nothing will be overlooked for your new space!
Not considering needed clearance for appliance, cupboard, pantry, and entryway doors is a common mistake made by homeowners tackling their own kitchen design. When measuring needed clearance, ensure you take into account the depth of handles and knobs attached to cupboards and drawers across from those doors.
Along with needed clearance, remember that you don't want to open and close certain features in the kitchen just to access adjoining cupboards or appliances. For example, avoid placing a slide-out trash bin across from the dishwasher, as you might want to scrape food scraps into the trash while loading that appliance. If the dishwasher drawer runs into that trash bin, you might find this chore very cumbersome every evening!
Added storage is often a must-have for kitchens but installing larger cupboards or a new pantry isn't always the best solution. Consider storage accessibility, meaning how easy it is to access stored items where they're needed. A large pantry across the kitchen from the stovetop, for example, might mean having to walk back and forth across that space every time you're ready to cook.
Along with convenient placement, accessible storage also means being able to reach shelves and drawers easily. Having to pull out a stepstool to access upper cabinets every time you need a certain item is not very convenient! Consider slide-out and fold-down shelves, deep drawers to replace lower cabinets, turntables, and other such accessories for your storage areas.
Oversized, chef-inspired appliances make cooking and food storage easier, but ensure your new kitchen design provides adequate food prep space. If you're considering removing a lower cabinet to make room for a large stovetop, as an example, remember that you'll also be removing counter space with it! Enlarge the center island or scale down appliances as needed, to ensure lots of room for cooking and prep in the kitchen.
When planning a kitchen renovation, it's easy to think a far corner is a perfect spot for the refrigerator, or just overlook appliance placement entirely. However, think of how much walking you do every day between those appliances and ensure you keep them somewhat close together.
Homeowners often overlook small details in a new kitchen design scheme, such as electrical outlets on the wall above the countertops for small appliances, adequate lighting in every corner of the kitchen, proper ventilation, room for trash bins and cleaning supplies, enough floor space for everyone in the family who cooks, and the like. A kitchen design contractor ensures no detail is overlooked for a stylish yet fully functional kitchen.
Tips for Creating a Workable Kitchen Design for Your Home
Knowing some mistakes to avoid when creating a kitchen design helps tremendously in ensuring a beautiful end result, but it's also helpful to review a few tips on how to plan your renovation from the start. You can also consult with a kitchen renovation expert as needed, so that nothing is overlooked!
When creating a kitchen renovation budget, set aside 10% for repairs and prep work! It's not unusual for a contractor to remove tiles, appliances, etc., only to find rotted subflooring, old wiring, and other such necessary fixes. You might also need new drywall along the floor to create an even surface, pull out cabinets to accommodate your new appliances, and other such prep.
Ensure you also work out your needs versus your wants, as very often those "wants" are what put you over budget or get in the way of your overall design scheme. For example, you might need a new stove but want an oversized model with six burners, a plate warmer, and other such features. Accommodating a stove that size might mean having to remove cupboards, reducing food prep and storage space.
Noting your needs also means details that make a kitchen functional; for instance, added outlets along the wall above the counters, improved lighting in far corners, a spice rack, a recycling area, an expanded broom closet for cleaning supplies, and so on. Those details might not be the most enjoyable part of planning a new kitchen design but they make the space easier to use on a daily basis, so ensure you include them in your budget and design scheme.
Changing the kitchen's footprint adds to your renovation budget but it might be needed to ensure a workable, convenient space. If you find it cumbersome to walk across the room every time you need something from the refrigerator, consider relocating it to a space near the sink. If the oven door is in the way of cabinets or an entryway, note if it might be moved to another spot in the room or if a wall oven might be a more workable option for you.
Ensure you add storage where it's needed rather than relying on a large pantry across the room or cabinets out of reach. As an example, you might consider built-in cabinets surrounding the refrigerator, so all your foodstuffs are in one spot.
Keep in mind the "flow" of the kitchen. Reconsider that oversized island if it cuts off entryways or makes it difficult for more than one person to cook and clean up.
How to Add Style to Your Planned Kitchen Renovation
A new kitchen should be as stylish as it is functional, as you want to enjoy your time there. A bit of style in the kitchen also helps alleviate some of the drudgery of meal prep and cleanup! While new cabinets and flooring might add some visual interest to the space, you can also make it more welcoming and inviting with just a few simple stylish touches.
One consideration is your kitchen light fixture. A plain fixture that disappears into the ceiling is a wasted opportunity to add style to your space! Consider updated track lighting, pendant lights, globe lighting, or even a fancy chandelier! Ensure you choose something easy to clean and that offers adequate light for food prep, but don't settle for something dull and bland when it comes to your new kitchen lighting.
Another great trend that's here to stay is two-tone cabinetry. Painting lower cabinets or the center island a coordinating yet different color than all the other cabinets in the space offers an updated look and lots of style. A backsplash is also a great space for adding style and visual interest; don't settle for simple tile but upgrade to tin, glass, or any number of attractive materials and designs.
Related Questions
How much does a new kitchen renovation cost?
Upgrading a few materials such as flooring and cabinetry might average around $2000, while a full tear-out, cabinets and appliances, and other such work might average from $15,000 to $25,000 or more, depending on materials chosen for your finished design. Reworking the room's footprint almost always adds several thousand more to your kitchen renovation costs!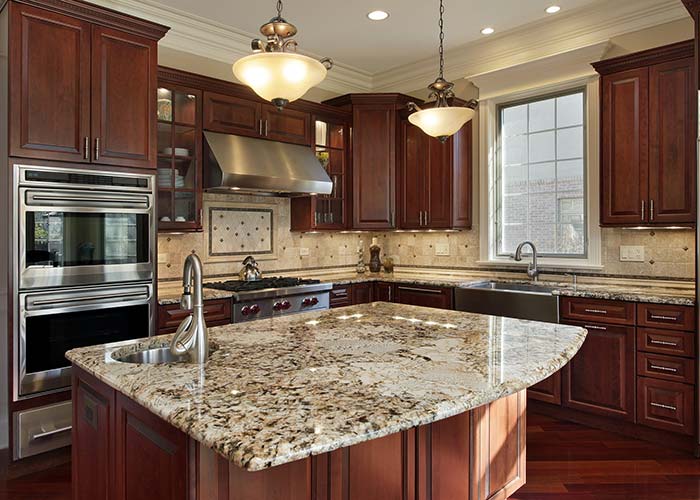 Do you need a permit for a kitchen remodel?
In many cases, replacing floor tile and other such simple work might not require a building permit from your city or county. However, anything that affects a home's structural integrity, such as installing new cabinetry and countertops and tearing out walls, and that affect plumbing and electrical systems, often require a permit. If you're not sure what permits are required for your planned kitchen design, talk to a kitchen renovation company or contractor.