No matter your expected bathroom remodel costs, you don't want to put off this work indefinitely! A home's bathroom is used every day and should provide adequate storage as well as an updated, attractive look you love.
Average bathroom remodel costs, with mid-range materials and minimal labor, might range from $1500 to $6500. A full bathroom tear-out and renovation might average around $15,000, or from $70 per square foot to $200 per square foot, depending on materials chosen and needed changes in the space.
Since no two bathrooms are alike, and no two homeowners want the exact same bathroom renovation, only a remodeling contractor can note your expected costs. However, you might consider the average costs of various materials needed for a bathroom renovation and the work required as well. This will give you an idea of what to expect with your new bathroom remodeling costs, and what to negotiate with a contractor before work begins.
What Goes Into the Average Bathroom Remodel Cost
There is probably much more to an average bathroom remodel than many homeowners realize, and certain materials are more costly than others. Knowing a bit more about your choices and options for fixtures and features, surface materials, and needed labor can allow you to make the best decision when it comes to your home's bathroom renovation plans.
Bathroom renovation contractors might charge anywhere from $65 to $150 or more per hour for labor; these costs often go up for labor-intensive tasks such as tearing out existing fixtures, tile, and the like.
Once a contractor removes tiles and other surface materials, he or she typically performs a full inspection of the room's subflooring, wall studs, and other such framework. Needed repairs, added bracing to the subfloor to provide support for an oversized tub or heavy floor tile, and updated electrical wiring might run several hundred to a few thousand dollars, depending on the home's current condition.
Heavy materials and solid pieces, such as stone countertops and large glass shower surrounds, might add to your costs substantially. Solid and heavy pieces are more cumbersome to transport and bring into a home, so your labor and installation costs often increase accordingly.
Reworking the footprint of a bathroom always adds to your bathroom remodel costs! Moving a shower, sink, toilet, and other fixtures more than just a few inches often means reworking the room's plumbing and might also require added pipes, vents, and other such pieces.
Your contractor might also be unable to install floor tile over existing tile when you relocate fixtures, necessitating a full floor tear-out and increasing your costs.
Many small tile types, such as mosaic patterns, are manufactured in sheets. A contractor then cuts each sheet to size, rather than having to install every small tile individually. However, subway tile and other such options might require individual installation, adding to your overall labor and materials costs.
Specialty and custom features, such as built-in shelving around the bathroom mirror or added recessed lighting, also adds to your overall costs.
What to Cut From Your Bathroom Remodel Costs, and What to Keep
Now that you know a bit more about what goes into the average bathroom remodel costs, you might consider what things to cut from your budget and what things you definitely want to keep! Your bathroom renovation contractor will offer specific advice for your renovation plans in particular, but note some suggestions to consider as well.
It's also helpful to ensure you've considered your "wants" versus your needs, and if certain luxury features are truly needed. For instance, a steam shower might sound very relaxing but you might find you only use it on occasion, and the steam created might be more bothersome than enjoyable! Steam showers also typically necessitate increased ventilation in the bath, adding to their installation costs.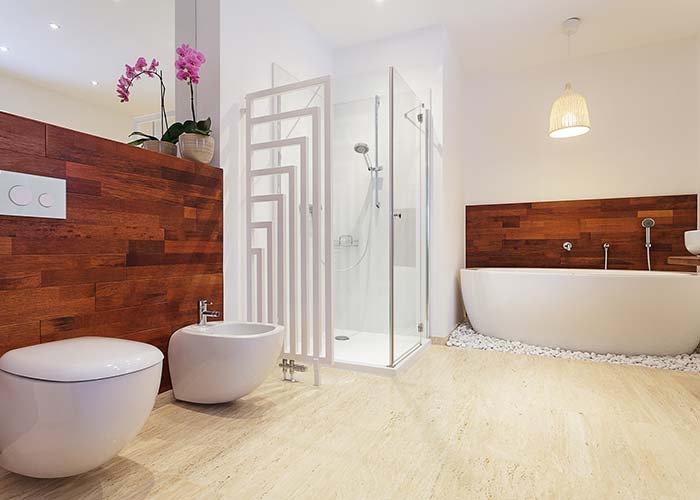 The same might be true for an oversized Jacuzzi tub and other such items, which might require added bracing and upgraded electrical but which you use only so often! Ensure you start your bathroom remodel plans with your absolute needs and then consider what money is left in your budget for those "wants."
Never "skimp" on the quality of surface materials, including floor and shower tile and countertops. These surfaces suffer lots of wear and tear every day and also protect a home's subflooring, wall studs, and other framing from water damage. Cheaper materials might tend to trap and hold dirt and grime and be difficult to clean, pull away from the home's framing and then allow water to seep into studs and subflooring, or outright discolor before too long!
Custom cabinetry offers lots of personalized storage right where you need it, but use caution about insisting on custom cabinets throughout your entire bathroom. Simple, exposed shelving offers lots of room for linens while cubbyholes and other built-ins inside your current linen closet might also offer the storage solution you need at a fraction of the cost of custom cabinets.
If you must rework the footprint of the bathroom, talk to your contractor about keeping labor costs to a minimum. He or she might be able to extend plumbing pipes from existing pipes rather than having to install new pipes if you keep features close to their current location, as an example.
Stone surfaces are durable and offer a classic, timeless look that lasts for years, but don't assume you need to invest in high-priced marble or solid pieces to get that high-end look. Consider granite, a very affordable yet popular option, and ask your contractor about installing several pieces for a countertop rather than one piece.
If you're choosing a glass shower door or wall, you don't want to compromise safety but note needed thickness. A six-inch door might add weight and glamour to the bath but cost far more than a four-inch thick door or wall, which is typically as strong and durable as needed in a family bathroom.
While a home's bathroom needs a durable, high-quality floor, note that heavy stone tiles might require added bracing along the subflooring, increasing your bathroom remodel costs. Porcelain and ceramic tiles are attractive and durable, easy to clean, and typically cost far less than solid stone flooring.
A homeowner should never ignore or overlook needed repairs, especially during a bathroom remodel process. Not only might damage to a home's framing get worse over time but it's often cheaper to have repairs done when a bathroom renovation contractor has already torn up the floor or ripped out walls than having a repair person come in at a later date!
How to Save on Bathroom Remodel Costs Without Sacrificing Style
If you're afraid that bathroom remodeling in the Boston area are out of your budget, you might consider some ways to save on those costs without sacrificing style or function. One consideration is discussing your options with your bathroom renovation contractor, as he or she might have included the highest-priced materials in his or her quote. If you discuss your budgetary concerns, your contractor might also suggest cost-saving measures such as durable yet more affordable surface materials, off-brand fixtures and features, and the like.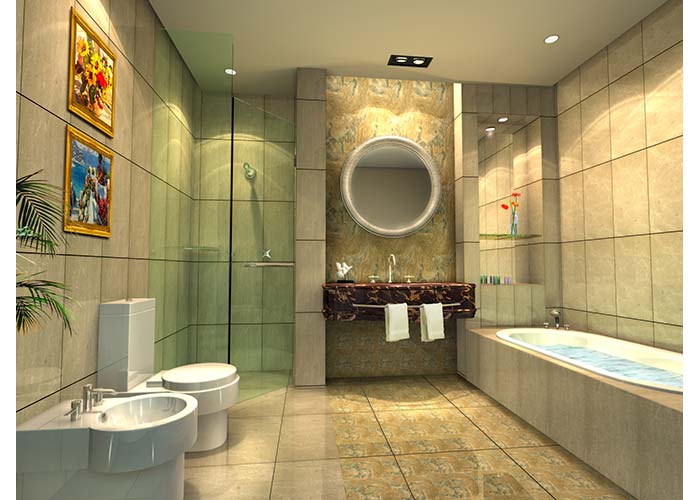 Rethink your options for creating a new footprint for the space. As an example, if you simply don't like having the toilet in full view while relaxing in the tub, ask your contractor about building a small partition between the two fixtures rather than moving the toilet altogether. If the vanity under the sink creates a crowded feeling in a corner of the bath, consider installing a pedestal sink rather than moving it to another corner of the room.
It's never recommended that a homeowner attempt DIY bathroom remodeling, but you might check with your contractor about handling some minor tasks yourself so as to save on their labor costs. For instance, you might remove and dispose of tile after a tear-out or shop for various fixtures and features yourself, potentially saving on their purchase and delivery prices.
Note, too, that you might choose neutral and affordable tile, countertops, and other materials, and then add style and personality with paint, store-bought shelving, and other such options. These choices are often more affordable than unique tiles, custom cabinetry, and other such options. By choosing neutral styles and colors, you can also continue to change the look of your bathroom over the years with fresh paint, new linens, and other such budget-friendly options rather than having to go through another bathroom renovation.
Related Questions
How often should you schedule a bathroom remodel?
There is no standard schedule of how often a homeowner might schedule a bathroom remodel; if you can afford the work and tend to get tired of the same look before too long, you might choose a remodel or at least a few major changes every other year if not every year! However, if your bathroom is more than seven years old, chances are tiles are worn and holding dirt and grime and other fixtures need updating as well.
What is an eco-friendly bathroom renovation?
Eco-friendly refers to choices that have minimal impact on, or are somehow healthy for the environment. For instance, you might choose recycled tiles or granite remnants, or purchase wood materials from a manufacturer that works with tree farms that plant two new trees for every tree harvested. An eco-friendly bathroom remodel cost is offset by reduced utility costs and a smaller "carbon footprint."