Bathroom remodeling in Boston is often more complicated than homeowners realize, which is why this work is best left to a professional contractor. However, many homeowners worry that hiring a pro will put a bathroom remodeling cost out of their budget.
While it's not recommended that a homeowner choose cheap, low-quality materials for a bathroom renovation in Boston or settle for a design that doesn't meet their needs, there are many ways to keep bath remodeling costs low. Check out these suggestions for an affordable yet beautiful bathroom renovation for a Boston area home as well as a few helpful tips for ensuring you end up with a bathroom space you'll love for years to come.
Know Your Needs for a Bathroom Renovation in Boston
Before you consider money saving options for a Boston bath remodel, it's good to note your needs versus your "wants." As an example, if your shower surround is covered in grime that doesn't come clean, new shower tile is not just a "want" but something your bathroom needs! Your needs might be even more specialized; for instance, if two people share the bath get ready at the same time every morning, you definitely need a double sink.
If you're not sure how to specify your needs and separate them from changes you simply want in the bathroom, don't hesitate to discuss this with your Boston bathroom renovation contractor. He or she has probably helped dozens if not even hundreds of homeowners note what's needed in their bathroom and might even have personalized suggestions you hadn't considered for your space.
Affordable Yet Quality Materials for a Boston Bathroom Remodel
Surface materials typically use up quite a bit of a bathroom renovation in Boston cost; however, you will want to invest in quality materials rather than assuming the cheapest options are just as good as high-end choices. You can still save money by choosing quality, mid-range materials, for an affordable yet luxurious bath remodel in Boston.
As an example, avoid cheap laminate tile on the floor and choose mid-range ceramic tile. Ceramic is dense and durable and offers lots of water resistance, and is easy to clean. Ceramic also offers a natural look and feel that many homeowners love, while laminate flooring typically has a plastic look and feeling underfoot, making a bathroom space seem cheap and unattractive.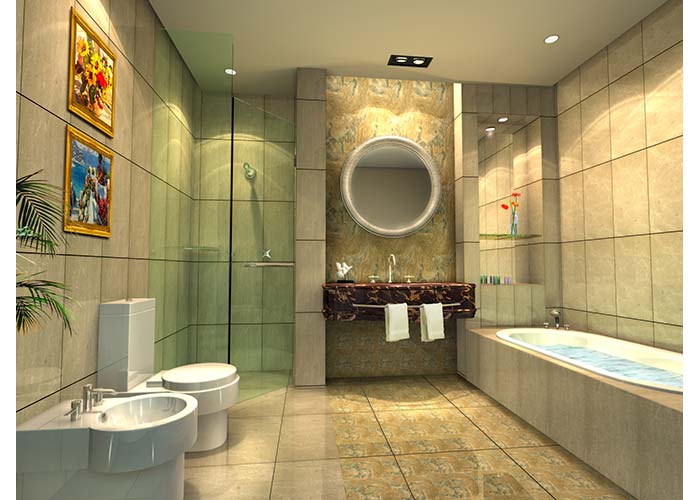 It's also good to ask your Boston bathroom renovation contractor if he or she can install new tile over the existing flooring. A new flooring layer saves you the cost of a tear-out while still offering a safe, durable, attractive new floor in the bath.
As with floor tiles, consider a mid-range countertop material such as granite or quartz rather than expensive marble or cheap, low-quality laminate. Your Boston bathroom renovation contractor might also be able to find a granite remnant, meaning a piece cut from a larger stone. You might not have as many choices in remnant colors but they can save you quite a bit of money on your countertop costs.
Invest in Cost-Saving Features for a Boston Bath Remodel
One way to limit your costs for a bathroom renovation in Boston is to invest in fixtures and features that save money over time, when then helps you to recoup those costs. For instance, low-flow showerheads and toilets use less fresh water, lowering your water bill. LED lights typically use less power than standard bulbs. You might even consider a tankless water heater as part of your bathroom renovation budget, as this means hot water on demand rather than wasting power to heat water sitting in a tank!
Adding Low-Cost Storage for a Bathroom Renovation in Boston
A homeowner should never underestimate their needs for accessible, convenient storage in the bath, as searching around for items or having to "cram" towels and linens into a small closet often results in stress and anxiety. However, you might also work with your Boston bathroom renovation contractor to create affordable storage in your new space.
For instance, your renovation contractor might expand the footprint of your home's current linen closet rather than adding another closet. He or she can often cut into an adjacent bedroom and then widen the linen closet door rather easily, creating additional storage for far less cost than adding a new closet altogether.
Added shelving is also a great choice for affordable storage in the bath. Slim shelves don't take up much space but offer lots of room for folded linens, while cubbyhole shelving around the mirror provide storage and organization for personal care items, makeup, and washcloths.
A Boston bathroom renovation contractor might also have ideas for adding affordable hooks, towel bars, and other accessories for convenient storage. As said, he or she has no doubt helped dozens if not hundreds of homeowners just like you, who need added storage in the bath but don't want to spend thousands of dollars expanding the footprint of the room, investing in an oversized vanity, and the like.
Adding Personality Without Breaking Your Budget
Homeowners might also wonder how to add personality to their bathroom space without spending too much money. Paint is an affordable way to personalize your bathroom; choose a bright yellow, sage green, or other color that expresses your personality and coordinates with your linens, for an updated look and lots of style.
Oversized fixtures and hardware also add lots of personality for not a lot of money. Choose a stunning faucet rather than a generic tap and attractive drawer pulls, cabinet doors, and hinges. Glass cabinet door fronts also add style and let you show off your beautiful linens and knickknacks, at an affordable cost. It's also good to consider luxury linens, a new shower curtain or glass shower door, and other small touches that mean a high-end look at a fraction of the cost.
Remember, too, that you might discuss your budgetary concerns with your renovation contractor, and outright ask for the cheapest bathroom remodeling for a Boston home. A contractor might know of manufacturer rebates and sales, or suggest scheduling your renovation for their slower time of year when materials might be marked down. After all, your contractor wants you to be happy with every aspect of your new bathroom remodel and that includes the price!