Custom kitchen cabinetry for a Boston home is an excellent option for any family and can solve your storage and design needs in an instant! Custom cabinets in the kitchen and bath offer specialized storage that is convenient and accessible, and that works around your needs in particular.
A full kitchen of custom cabinetry costs an average of $12,000, with added fees for custom hardware, paint, and other such features. Some builders add $100 per cabinet for additional customization, bringing the average total to just over $18,000.
Never assume that a choice like custom cabinets is out of your reach financially, or that you should opt for factory-built cabinets to save money. While it's up to each individual homeowner to decide on the best choice for a Boston kitchen design, it's also good to invest in stylish, quality products for your home, built with materials that are known to last for years. Consider some advantages to custom cabinets in a Boston home and some hot trends in cabinetry today.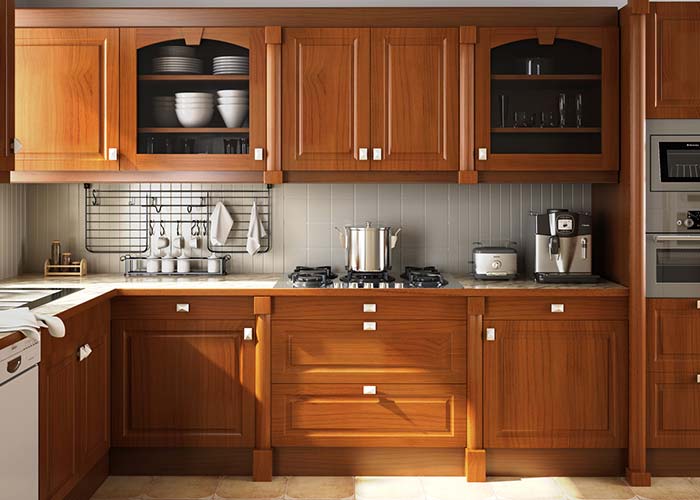 Invest in Custom Kitchen Cabinetry in Boston!
Before you assume that factory-made cabinets or those manufactured with substandard materials are the right option for your home, you might note why a Boston custom kitchen cabinetry price is worth your investment. Be sure to discuss these advantages with your kitchen renovation contractor so you know you're making the right decision for your home.
Custom cabinetry built around a refrigerator, stovetop, or other major appliance offers all the storage you need in a kitchen, right where you need it. You can reduce food prep time and the effort it takes to retrieve foodstuffs and tools from around the kitchen when you have custom cabinets designed to fit all your kitchen appliances in particular.
Custom cabinets hold all the items you keep in particular; for example, you might have a large wine collection you keep in the kitchen, or you might need a place to keep snacks for the kids. Rather than trying to fit your collections and foodstuffs into generic cabinets, custom cabinets are built to fit your needs in particular.
Custom kitchen cabinets in a Boston home fit in and around small nooks and crannies and oddly-shaped kitchens. That little nook in your kitchen or gap between an appliance and the wall won't be a wasted, empty space when you choose custom kitchen cabinetry! Small shelves, a slide-out spice rack, and other custom made options ensure every inch of the kitchen offers the storage you need.
Some older Boston homes tend to have smaller kitchens that offer little room for storage. In this case, you need Custom kitchen cabinets in Boston to take advantage of every usable square inch. Cabinets can be designed around the kitchen window, underneath bench seating, or anywhere else there is "dead" but usable space in your small kitchen.
Custom cabinets built with your chosen wood species and stains or coatings will match your home's wood floors or trim, dining room furniture, or other features perfectly and without clashing or a mismatched look.
Custom cabinets are often a selling feature in a home; if you ever decide to put your home on the real estate market sometime in the future, investing in custom kitchen cabinetry now might make it easier to sell that house and for a higher price!
Hottest Trends in Custom Kitchen Cabinetry
Today's trends in custom kitchen cabinetry for a Boston home make cooking, food prep, and storage much easier for you and the entire family. If you haven't shopped for new kitchen cabinets for many years, or aren't sure what you want and need in your new Boston kitchen design, check out some of today's trends so you know you don't overlook any amazing details for your home.
Deep drawers taking the place of lower cabinets allow for easier access to items stored away, without bending, stooping, or reaching into the far corners of those cabinets!
Deep drawers in lower cabinets might also be made with storage bins, for holding bulk foods like flour, oatmeal, or pet food. These bins come equipped with lids to keep foods fresh and protected, and make accessing and even measuring out those larger items much easier overall!
Mixing up the style of your custom cabinetry allows you to meld traditional and modern looks. For example, Shaker style cabinets are very simple and clean and work well in a modern home, whereas oversized hardware and a few areas of open shelving provide a traditional look, for a perfect blend of these two styles.
Upper cabinets are often as inaccessible as lower cupboards, so today's custom cabinetry might include pull-out shelving that slides out and then lowers. You can then easily find everything you need in any upper cabinet without a stepladder or uncomfortable reaching and stretching.
Two-tone cabinets are a hot trend, as they break up the look of otherwise monotonous or monochrome cabinets. Try a different color for bottom cabinetry than for top cabinets, or have the kitchen's center island painted a different color than the cabinets along the walls for a great look.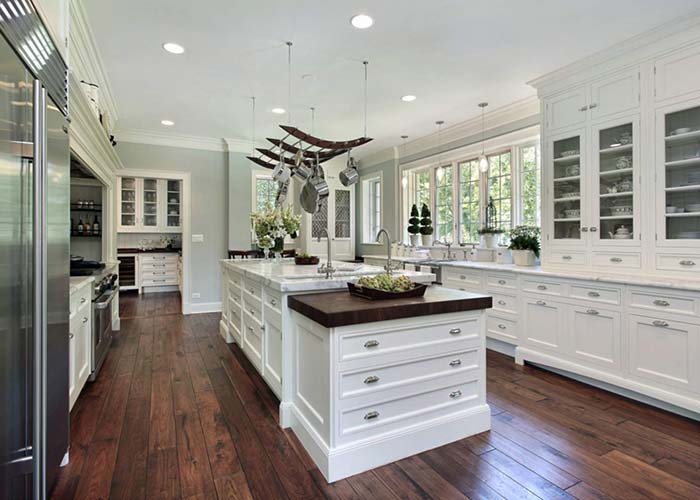 How to Choose the Right Kitchen Cabinet Materials
Custom cabinet materials include hardwood, plywood, particleboard, medium-density fiberboard (MDF), and veneers. Wood chips and sawdust are mixed with glue and then pressed together to create particleboard and MDF, and these materials tend to soften over time. Veneers are an artificial covering glued onto cheap materials, and custom cabinets for a Boston home are rarely made with such subpar materials!
Plywood  cabinets offer excellent durability but their paints and stains might fade eventually, especially when exposed to the heat and humidity of kitchens. Hardwood cabinets are a very durable option, and the tones and colors of real wood won't fade, peel, or otherwise disappear over time!
To ensure you get the best appearance and longest lifespan from your home's custom kitchen cabinets, opt for solid hardwood. Choose a species that offers the tone and color you prefer so they won't need painting or staining. You might pay more for solid, genuine hardwood, but you'll enjoy and appreciate your new custom kitchen cabinetry in a Boston home for much longer when you invest in quality materials.