A kitchen renovation in Boston is an excellent way to add value to your home while making the space more workable for you and your family. A new Boston kitchen design might open up the space, for easier entertaining or to accommodate a growing family, or it might actually reduce the footprint a bit, allowing you to use some of the kitchen to expand space in other rooms of the home.
While a kitchen renovation in Boston is almost always a good idea for homes, you might wonder about the most expensive part of the process. As no two kitchen designs are alike, there's no easy answer as to what is always the most expensive part of a kitchen remodel! To ensure you know what to expect when it comes to kitchen renovation costs in Boston, note some vital information about these costs overall and what you might sacrifice or keep in when it comes to your planned kitchen design.
What a Kitchen Renovation in Boston Costs
Check out some average pricing and costs for a Boston kitchen renovation so you know what to expect from your home renovation contractor.
New kitchen cabinets are often the most expensive part of any kitchen design. Custom cabinets for a Boston home might cost around $15,000 or more, depending on the materials, design, and details, such as personalized storage options.
Appliances are often an expensive part of your Boston kitchen renovation costs, typically averaging between $5000 and $8000. These costs are affected by the brand name appliances you choose, their size, and added features such as programmable functions.
Countertops for a Boston kitchen design often cost several thousand dollars. This price is also affected by the materials chosen; granite is a high-end material but often more affordable than marble, while quartz is often less expensive than granite.
Items like flooring, lighting, trim, paint, and other such details will add to your Boston kitchen renovation costs.
Changing the footprint of your kitchen space also adds to your kitchen design costs, sometimes significantly! A contractor might need to rework plumbing and wiring, reposition load-bearing beams, or make other such changes to accommodate a new kitchen layout.
Remember that you might also need to budget for a new dining set, barstools, and decorative items for your kitchen space.
Kitchen renovation contractors in Boston also typically recommend you set aside a small percentage of your budget for addressing problems they might find, such as rotted floorboards, frayed wiring, and the like.
Where Can You Cut Corners for a Kitchen Renovation in Boston?
If you're concerned about your kitchen renovation costs in Boston, you might note a few places where you can cut corners or save a few dollars. Your kitchen renovation contractor might also have specific suggestions for saving money on your new kitchen design as well.
Keeping the current footprint of the space avoids the cost of new plumbing and wiring. To accommodate large appliances or create more room, note if your kitchen contractor might knock back a wall or remove a set of cupboards rather than relocating appliances.
Be sure you check the price of custom kitchen cabinets in Boston against prefabricated cabinets. Never sacrifice quality or style but many prefabricated designs are just as attractive and functional as custom cabinetry.
Scale back the features you think you need for new appliances! If you forego various programmable features, zone cooling in the refrigerator, several wash cycles for the dishwasher, and other such luxuries, you might save hundreds if not even thousands on your new kitchen appliances.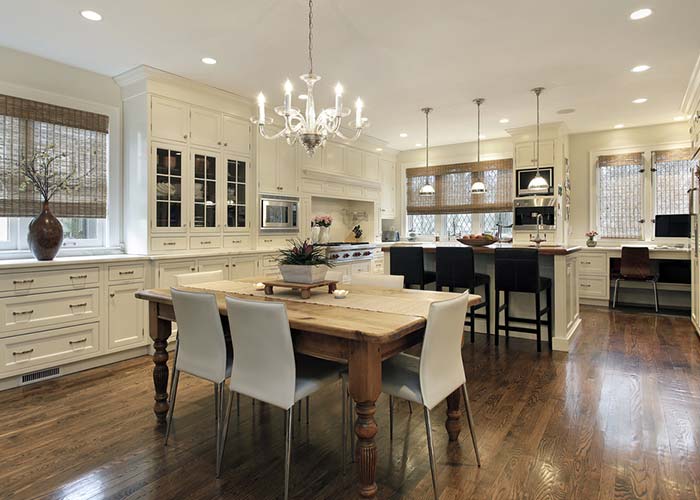 Where to Spend on Your Kitchen Renovation in Boston
While you might cut a few corners in your new kitchen design in Boston, there are some areas where it's best to invest in quality materials and ensure you have all the details you want in a kitchen! For example, it's never recommended that you choose low-end countertop materials, as kitchen counters suffer lots of wear and tear every day. The adhesion holding together laminate materials also tends to fall apart after just a few years.
Durable flooring is also vital in a new kitchen, as kitchen floors probably see the most foot traffic of any room in the home. While you don't necessarily need a large and glamorous light fixture in the kitchen, it's also good to ensure there is sufficient lighting for creating a bright and cheerful space, and to ensure you see clearly during food prep and cooking.
Whatever your decisions for cabinetry, appliances, and a place to eat in the kitchen, be sure you're not skimping on size and space as well! Cramped and overflowing cabinets, appliances that don't offer enough space for food storage or prep, and an undersized dining area often mean stress for the family every day. Ensure your new kitchen design in Boston works for you and your family, no matter the choices you make for your budget.
When Should You Choose a Kitchen Remodel in Boston?
There is no easy way to determine when you should choose a kitchen remodel in Boston, but you also don't want to put off this work indefinitely either! For example, if your family is growing, keep in mind that your kids will just get bigger and probably want more friends over for dinner as they get older. A kitchen renovation in a Boston home now ensures you'll have room to accommodate!
Old appliances also tend to use more energy to operate than today's energy-efficient models. Upgrading to new appliances now might mean saving money on your utility bills in the future! Choosing a new kitchen renovation also means ensuring you receive maximum offers if you should ever put your home on the real estate market sometime in the future.
It's also vital that your home work for you and your family! If the kitchen is too small, has an odd or awkward layout, is outdated, or just downright ugly, it's time for a kitchen renovation in Boston. You'll enjoy your new kitchen more often every day and probably find it's more attractive as well as more functional overall.