Choosing a particular kitchen style before you begin a remodeling project can help ensure that all the materials and features you want for your new kitchen space look cohesive and coordinated. Your designer or builder can also suggest various details that would fit into that specific style, which is very helpful for homeowners who struggle to choose coordinating cabinets, counter top materials, and even colors for a new kitchen.
A European kitchen is a trendy style choice even in American homes, whereas an updated kitchen with a distinctly American style can be a great compliment to the overall design of a house as well. Note a few differences between a European kitchen versus an American kitchen remodel, as well as some other popular kitchen styles, and some helpful tips when it's time to renovate your home's kitchen!
Size of a European Kitchen Versus an American Kitchen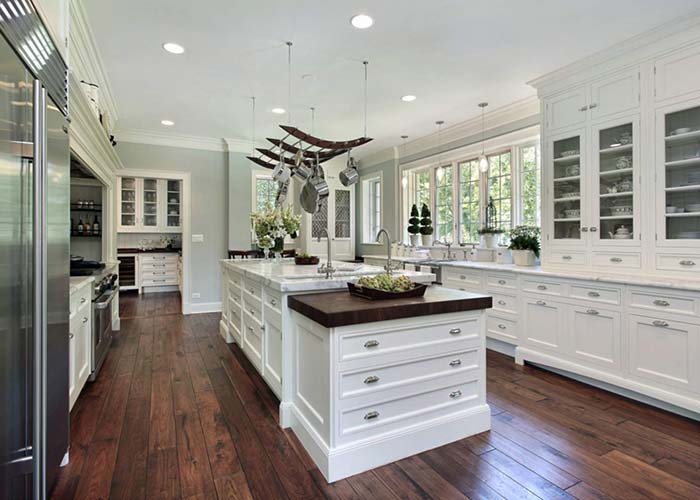 Many homes in Europe are quite old and were originally built to be more efficient than comfortable, so they're usually smaller than American houses. Kitchens in those homes are also typically smaller than American kitchens, for a few reasons:
Fresh produce and dairy products are readily available at many "mom and pop" shops set up along residential street corners, so that Europeans buy food often throughout the week, rather than storing food and canned goods in their kitchens.
While a smaller kitchen may not appeal to every homeowner, a European style kitchen can be a perfect choice for singles, retired couples, or for townhouses and small homes in the city, where supermarkets and bodegas offer fresh food you can purchase regularly.
European Kitchen Style Cabinets
One small but significant difference in an American kitchen versus European style kitchens is that European kitchen cabinets are frameless. The door to a frameless cabinet is connected flush to the cabinet so that it looks less obtrusive and a bit more simple.
The frame around the front of American kitchen cabinets allows for a smaller cabinet door. The cabinet front itself is then more visible behind the door. American kitchen cabinets have more depth and visual appeal, but they can also look a bit busier. European style kitchen cabinets may appear more modern, with less detail and depth.
Hardware
Kitchen hardware refers to cabinet door handles and drawer pulls. Many European kitchens forego hardware; you pull doors and drawers open from the bottom or top. This lack of hardware makes European kitchens look very simple and clean.
American hardware might be simple handles or round knobs, or very intricate pieces with lots of twists, stamped designs, and other details. Materials for American hardware can also be stainless steel, a good look for a modern kitchen, or oil-rubbed bronze, for a more traditional appearance. Glass knobs and oversized hardware and hinges also add more visual interest to a kitchen, bringing out the metal of a kitchen faucet, vent hood over the stovetop, and other such pieces.
European Kitchen Versus American Kitchen Windows
European homes often have shutters rather than window screens, to allow for more light and air into the house. If shutters are not practical in your own home, you might bring in a bit of European flair by choosing casement windows. These windows open with a hinge on the side, so that they resemble shutters and allow for lots of fresh air into your kitchen.
You can also add working or decorative shutters to your kitchen while still keeping standard casement windows if you prefer a screen to keep out bugs and other pests. Opt for classic board shutters in a simple design and pattern, for a very European look over your American windows.
European Versus Tuscany Style Kitchen Remodels
A European style kitchen is entirely different than a Tuscany or Mediterranean style kitchen, which is essential for homeowners to understand before they start any kitchen remodel. American homeowners often confuse these two styles, and then wonder why their European kitchen options look nothing like they expect!
Tuscany or Mediterranean style kitchens usually have rounded arches over the doorway and an elevated or vaulted ceiling. This kitchen style will incorporate lots of warm wood tones and terracotta tiles, with a pot rack over the oven and detailed hardware. In many parts of the Mediterranean, homeowners do love to cook in front of their friends and will often eat in the kitchen, so a Tuscany style kitchen will usually have a large island in the center, perfect for food prep and entertaining.
What is an American Kitchen Style?
While a European kitchen can offer lots of style and appeal in an American home, you might consider a more traditional or updated American kitchen for your house. Standard features you'll find in an American kitchen include:
Oversized appliances, including a refrigerator that is perfect for those who shop at bulk stores, and a dishwasher that handles large pots and pans.
Specialty storage and appliances; for example, an American kitchen might have a drawer dishwasher in addition to a full-size dishwasher, a separate cooler meant for wine and beer, and a cabinet designed specifically for coffee making supplies or baking tools and utensils.
What Is a Farm Style Kitchen?
A farm style kitchen is an excellent choice for any homeowner who loves to bake and entertain, as these kitchens are typically quite large and made explicitly for cooking big meals from scratch. A farm style kitchen might incorporate both American and European details, depending on your particular taste.
Some details you might find in a farm style kitchen include an extra deep, one-compartment sink, perfect for filling oversized pots. Barn wood is often used as flooring, trim around doorways, or ceiling rafters, for a very rustic look. Engineered hardwood floors with lots of surface knots and "imperfections" are often very common in farm style kitchens, giving the space character and charm.
What Is a Coastal Kitchen?
A coastal kitchen is popular in homes near the beach, or in tropical areas. Most coastal kitchens feature a color scheme resembling the beach, including sandy tones, shades of blue, or seafoam green. Many coastal kitchens will have engineered hardwood in a very light and rustic shade, to keep the floor cool under your feet.
A coastal kitchen will also have a very casual look and feel, in keeping with the relaxed lifestyle of beach living. Open shelving and a built-in breakfast nook with comfortable cushions and bench seating are also commonly found in coastal kitchens, along with wicker or white wood furniture, also keeping with the casual and comfortable style of these kitchens.
What Is a Retro Kitchen?
A retro kitchen is a distinctly American kitchen with features and details that were very popular a few decades ago; this might include a metal table and metal chairs, with brightly colored vinyl cushions and matching laminate on the table's surface. Retro kitchens might also include a metal stove and refrigerator in a bold color, such as fire engine red or baby blue.
Many retro kitchens will have vinyl or linoleum flooring in a speckled design that was popular in homes during the mid-century decades or will feature black and white tiles installed in a checkerboard design. Eclectic touches, such as an electric clock and café curtains, can complete the kitchen's retro look.
What Is a Transitional Kitchen?
A transitional kitchen combines elements of various kitchen styles, usually traditional and modern. This design plan can be a great choice if you like some aspects of more than one kitchen style and aren't sure which to choose. A transitional kitchen can also mean combining some details of a European kitchen with American kitchen elements, for an attractive look that also tones down both these styles.
As an example of a transitional kitchen, you might opt for American style cabinets, with front frames and beautiful hardware. Your counter tops might then be a simple marble or granite without much veining, for a modern, European look. Simple counters tone down the detailed cabinets, so you then have a touch of both styles in your kitchen.
Should You Choose a European or American Kitchen Style?
There is no easy answer as to what kitchen style is best for your home, but now that you know a bit more about the details of a few popular styles, you might be able to discuss your choices with a designer more readily. Note a few important factors to keep in mind when you're ready to schedule a kitchen to remodel for your home.
Smaller European cabinets might not have room inside to hold taller food containers, jars, and the like. If you do choose a European style kitchen for your home, ensure that the interior shelves can be moved to different heights, as needed.
Be sure you choose a kitchen style that is in keeping with the size of your current kitchen. For example, a Tuscany kitchen, with all its details and warm tones, might overwhelm a small space or make it seem dark and cave-like. On the other hand, a European style kitchen, with its clean and simple lines, might make a large space seem stark and dull.

You also need to consider the lighting in your kitchen. If a kitchen doesn't have many windows or none at all, you might avoid a Tuscany kitchen and its deep wood tones. A European style kitchen, with lots of light cabinetry and countertops, will look brighter and cleaner in a dark space.
You might also check with a real estate agent regarding home styles and property values in your area, and how a kitchen remodel will affect your home's overall value. A European style kitchen might add more value to a small house in the city or a home with a more modern look and feel, whereas a traditionally American kitchen might be a better fit for suburban homes or older homes with a distinctly American style.
How to Make Your Kitchen Your Own
No matter the overall style you choose for a kitchen, be sure to make it your own and resist just recreating something you see in a catalog. Your home's kitchen should work for your needs and the needs of your family in particular and should be a space you love to look at and use for cooking. To make your kitchen your own, note a few fun ideas to discuss with your designer or contractor:
Add a stylish color to the kitchen's walls, as long as it coordinates with all other surfaces in the space. If you choose a European style kitchen with clean and simple lines, avoid stark white walls and opt for a cool grey, or even a light blue shade. In an American kitchen, try a subtle yellow wall color, for a bit of brightness and style.

Pick one fun or personalized feature you might add to a kitchen, such as a bold backsplash or floor tile. One strong element in the kitchen will keep it from looking dull and drab, and make it uniquely your own.